8:54 pm, Saturday, February 25th, 2006
I went shopping for groceries this afternoon. Drove to the Safeway in Fremont. Got a 9×13″ Pyrex baking pan for a pretty good price, plus a whisk, some measuring spoons, and a sieve. Anywho, I've been wanting to have lasagna for a while, but always lacked the equipment for it. So I made a batch today. It came out pretty good. Need to use a little more sauce next time. Still quite delicious. Had it with some really good apple cider.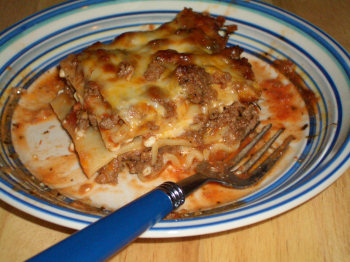 Lasagna. (1100×825; 310 KB)
This video is the coolest thing I've seen all week. It's a Japanese commercial for the SNES Legend of Zelda game. Way, way better than the Zelda commercials we got over here.