8:27 pm, Monday, October 1st, 2007
Okay, first some food pics that were on my camera from last week:
On the left, vegetarian stroganoff with buffalo wings. Not a natural combination, but it's what I was in the mood for. On the right, some of the best American trailer park cuisine available — Cheeseburger Macaroni Hamburger Helper. Good stuff.
Man, I love autumn. It's nice and chilly outside (53°F) and just a little bit damp. My ideal weather. Finally, I can wear my favorite hoodie and drink hot tea comfortably again (I'm having oolong right now). 'Course, Pasco's not really there yet. But Pullman's nice.
My contract with DreamHost will be up in about a week. I dunno if I'm going to stay with them. My site's uptime has been lousy for the past four or five months (hovering around 96.7%, according to Pingdom) and despite my frequent complaints to the support staff, nothing's been done to fix the server I was on. I'd say, "My site's down again. This is a recurring problem, check my previous support tickets." And they'd reply, "I restarted the server. We'll look into it." But nothing changed. Here's a quick snapshot of the stats from last week (which was better than usual), omitting the 30th since that downtime actually had a legitimate cause: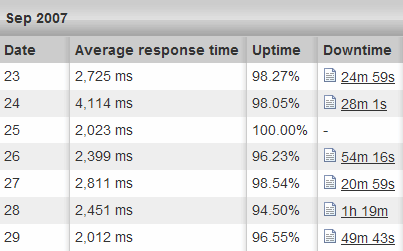 Pathetic, right? Anyway, on Sunday I talked to one tech that admitted virgil (my old server) has been "plagued with problems" (his words) and said I'd probably see better performance on another server. So now my six domains have been moved to abbazaba. Hopefully it's more stable.
Some pics from game night at Adventures Underground:
Lotta fun. We played Jenga, Bang! (which, aside from the crazy Italian picto-algebra, is pretty fun), Scrabble, Carcassonne (two base sets plus the Princess and the Dragon expansion), and Super Munchkin.
Last week's Family Guy premiere (an hour-long Star Wars Episode IV parody) was awesome with a few exceptions. Like, I have to agree with this /co/mmenter's sentiment:

It's nice having TV back. The Office season premiere was awesome. Can't wait for 30 Rock and South Park this week.
Oh yeah, I have a new rule for my blogroll: If you can't post at least once every two months, you're off the list.